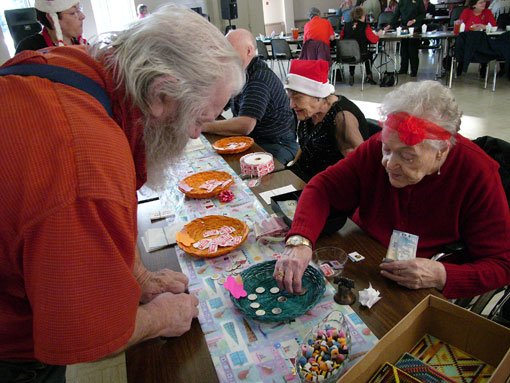 Seniors Recreation and Lunch
Every Tuesday 10:00 am – 2 pm from September-June – $5.00
Starting Fall of 2014 Care and Share is proud to introduce recreational activities such as fitness, crafts, knitting, board games, etc. Below is the schedule for each week.
Fitness: 10 am—11:45 am (Free)
Meal: 12 pm—1 pm ($5/plate)
Recreation: 1 pm—2 pm (Free)
We welcome all seniors to come on out and enjoy some fitness, a meal, arts and crafts, and games. There will be a nurse on hand at all times. If requested, the nurse will provide free blood pressure checks to the seniors partaking in Care and Share.
Hope to see you there!
North Central also provides other services for seniors, which include foot care.
Care & Share takes the summer months of July & August off, resuming in September.
There is no Care & Share on the Tuesdays following holiday Mondays.
Seniors' Walking Club
Monday, Wednesday & Friday – 8:00 to 9:00 a.m.
Our seniors walking program has now become a club for all who are interested in improving their physical fitness. The program is designed to provide a safe place for adults to get together and exercise in a quiet, comfortable setting. In case any problems occur, there is a staff member on hand at all times.
For more information on our services for seniors, contact the office at 791-9888.
Funded by: