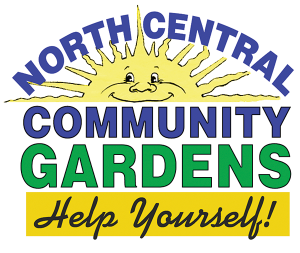 The North Central Community Gardens are planted, maintained, and enjoyed by volunteers and residents of North Central Regina! The gardens are shared by all.
Community Gardens offer increased food security, and community involvement by turning vacant lots into green havens of delicious, nutritious vegetables that everyone can enjoy! They also beautify the community by cleaning up otherwise vacant lots.
We welcome everyone and anyone, from any neighbourhood in Regina, to volunteer in any capacity; organizing, gardening, fundraising, or anything else you would like to help with. The gardens belong to the entire community, so please join us! Contact the office to find out how!
For the month of July, come out to the garden for activities from 1:00pm to 3:00pm.
Check out the July and August calendars for the garden activities dates!
---
The North Central Community Gardens are located:
Oasis Garden – 1265 Garnet Street
Albert Scott Community Centre – 1264 Athol Street
Both gardens have drop-in times in which community members are welcome to join the garden co-ordinator in weeding and harvesting the garden.
Monday – 10:00 AM to 11:30 AM @ Oasis
Tuesday – 1:00 PM to 2:00 PM @ Albert Scott Community Centre
Wednesday – 5:00 PM to 6:30 PM @ Oasis
Thursday – 1:00 PM to 2:00 PM @ Albert Scott Community Centre
Friday – 4:00 PM to 5:30 PM @ Oasis
---
Take a look at what's happening in our Oasis garden on 1265 Garnet Street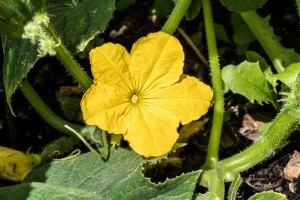 ---
Annual Spring Planting
On Thursday May 29th and Saturday May 31st  over 100 volunteers came out to plant the North Central Community Gardens. The day was complete with activities and a BBQ lunch.  Thanks to all the volunteers and groups who came out and helped!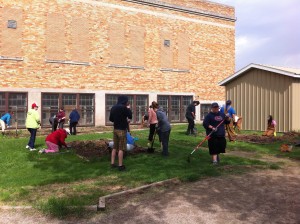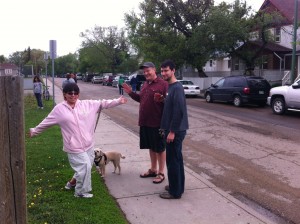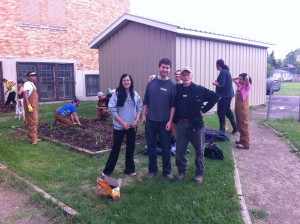 Planting day was a success! Thanks to everyone who volunteered their time on such a nice day!
Volunteer Times!
In the summer months, there are set times the Garden Coordinator will be at our garden sites to welcome and instruct volunteers.  The day and time will be posted in spring.  Everyone is welcome to come down and enjoy all that the gardens have to offer. Hope to see everyone out!
Volunteers are always welcome in the gardens. To find out about volunteer opportunities, please contact the office at 791-9888 or email: communitygardens@nccaregina.ca
We are also looking for donations. If you are interested in donating to the gardens, please contact us.
---
The 2014 gardens  is made possible with the generous support of:
---

There are many things that happened this summer in relation to the gardens.
---
New to 2014!
Medicine Wheel Garden Unveiled at Scott Collegiate
Partnerships formed to Renew the School Yard Grounds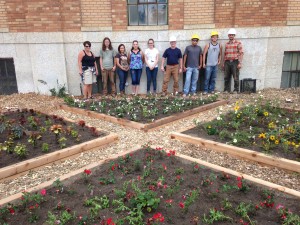 North Central Community Association and Early Years Family Centre have partnered together with the support of Scott Collegiate to renew the space in front of the school into a garden space.  The garden features a medicine wheel inspired raised beds designed by NCCA and built by NCCA's Transition to Trades students in addition to separate raised planter boxes that were built by Scott Collegiate students.  The planting event takes place Wednesday August 20th from 9am-12pm at Scott Collegiate 3350 7th Avenue.
 Michael Parker, Executive Director of NCCA had this to say about the garden "We are really proud of our community and its ability to work together to create a space of beauty and for reflection, we want to acknowledge Elder Norma-Jean Bird for her guidance and knowledge in the planning and preparations of the garden space."
With a grant from Saskatchewan Outdoor and Environmental Education Association this year and with the numerous hours from Transition to Trades students to build the medicine wheel inspired raised beds has helped bring this project idea to fruition.  Scott Collegiate students also spent class time building the individual raised planters already installed and planted.
Other sponsors are The Shake Shop, The Plant Ranch Inc., Serbu N & Sons Equipment Ltd., Perfect Landscape Solutions and Northern Tree Company. The organisers want to acknowledge Elder Norma-Jean Bird for her guidance and knowledge in the planning and preparations of the garden space.