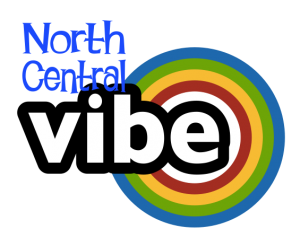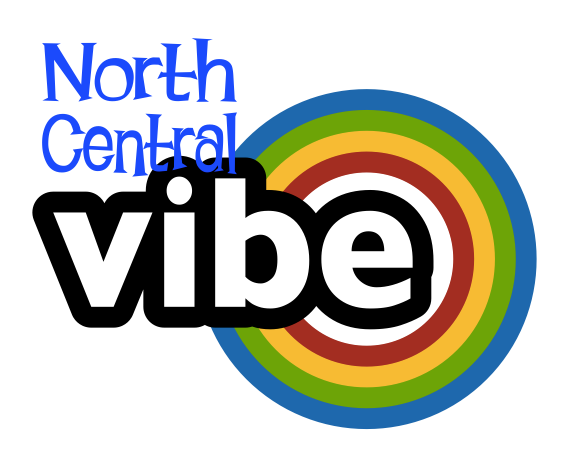 SUMMER 2017 PROGRAMMING
FREE Drop In! Vibe  will be doing crafts, games, recreation and some light snack making. The program runs for two hours and will be held in the new mâmawêyatitân centre, located at 3355 6th Avenue; entrance on 6th Ave. & Montague St.
For more info: Phone: 306-791-9888
Email: louise@nccaregina.ca
Dates: Tuesdays & Thursdays
July 13th to August 22nd, 2017
Times: 3:30 pm – 5:30 pm
For families, youth & children. Children under 8 must be accompanied by a parent, guardian or older sibling.
The program aims to have families spend time together in a positive way and get to know their neighbours.
For the days we will be outside, sunscreen and water will be provided. All supplies will be provided. Snacks will be provided.
Thursday, July 13th
Introductions and How to make a kite
Tuesday, July 18th
Summer twig ornament and Bingo
Thursday, July 20th
Cotton ball yarn rainbow and Smoothie Making
Tuesday, July 25th
Crazy feathered parrots and Open gym
Thursday, July 27th
Veggie Dip making and Toilet paper roll trains
Tuesday, August 1st
T-shirt tote bag
Thursday, August 3rd
Paper mâché masks
Tuesday, August 8th
Sun catcher craft and Making Rice crispy squares
Thursday, August 10th
Playdough sculpting and Sing charades
Tuesday, August 15th
Self portrait project and Hopscotch
Thursday, August 17th
Scavenger hunt and Write a letter to future self
Tuesday, August 22nd
Summer memories/Book cover and Making Pizza/cake
WINTER/SPRING 2017 PROGRAMMING
**If you plan to attend any of the NCCA programs, please take the time to fill out a Vibe Participant Registration Form**
**If you are interested in registering your child or children in the Kids Music Program, please fill out the North Central Kids Music Registration Form**
Registration forms can be downloaded, printed, filled out and returned to the North Central Community Association office. Registration forms can also be scanned and emailed to: louise@nccaregina.ca or brought to the program in person. If you have any questions or concerns please contact the office at 306-791-9888.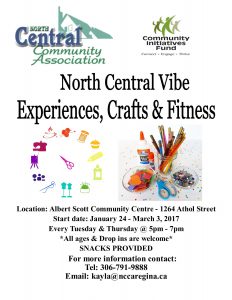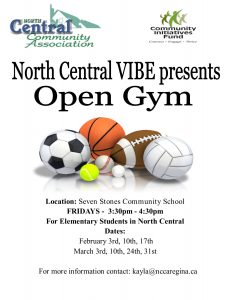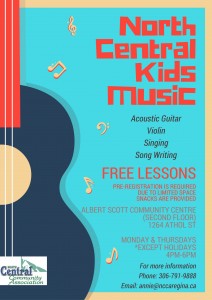 KIDS MUSIC: MONDAY & THURSDAY               (4:00 PM – 6:00 PM)
September 19, 2016 – May, 2017 1264 Athol Street
North Central Kids Music is gearing up for another session of free lessons! Are you interested in learning how to play the acoustic guitar or the violin? Do you want to improve your singing or interested in writing your own song? Sign up today! Lessons are free and instruments are provided! Pre-registration is required due to limited space. Snacks are provided!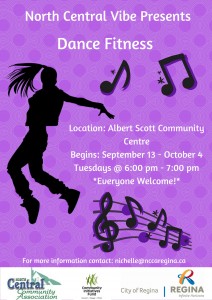 DANCE FITNESS: TUESDAY                              (6:00 PM – 7:00 PM)
September 13, 2016 – October 4, 2016                     1264 Athol Street
We are happy to announce the new dance class that we are providing! Bring some comfy shoes, grab a friend and get active! This Dance Fitness class will only run once a week for 4 weeks. Sign up today! Don't miss out on this class! All ages are welcome.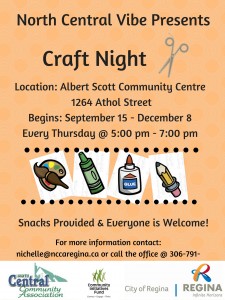 CRAFTING CLASS: THURSDAY                      (5:00 PM – 7:00 PM)
September 15, 2016 – December 8, 2016             1264 Athol Street
On Thursdays, we invite you all to join us for our Craft Night from 5:00 pm – 7:00 pm. We will be doing a variety of crafts, beading, and sewing, blended in with seasonal art activities. All ages are welcome and families are encouraged to join. Snacks will be provided!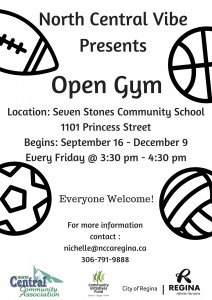 OPEN GYM: FRIDAY                                         (3:30 PM – 4:00 PM)
September 16, 2016 – December 9, 2016                 1101 Princess Street
On Fridays, we are bringing the fun to the Seven Stones Community School. We would like to thank the staff of Seven Stones for letting NCCA come in to engage and promote physical fitness with our Open Gym program. Our goal is to offer structured play through organized sports. Whether its setting up the volley ball nets, playing some badminton, or a casual game of dodge ball. Everyone is welcome and snacks will be provided.