Meewasasin is accepting new clients!  Not sure if it can help you?  Here are some testimonials from recent clients:
"Some of the things I liked about Meewasasin were refreshing my memory on a lot of subjects and the instructors do a good job teaching it.  It is good to see young native people like myself trying rather than doing nothing and expecting things to come their way… The program is different than most I have been through because they focus on Native youth, helping us with employment skills … from the moment they took us as their clients… I now feel more confident about myself and my skills required for most employment…"

"Meewasasin is a program I very much enjoyed.  The learning experience taught me a lot which gave me a bigger look to the picture in my life…. The instructors were the best of the program, very outgoing also very understanding.  From this program I started telling people about what I learned and I think others are going to come because of the positive outcome I have from being in Meewasasin… In this program I've learned the only change you can do is by changing who you are."
"I've learned a lot in a short period of time at the Meewasasin work employment program.  The communications, how to deal with rejection, will really help me in the long run with employment.  Having the elder Harold come every Friday and just telling his story and about spirituality was definitely something I will remember…. Nothing but great staff and clients, makes it that much easier and fun to attend.  Always positive energy here."

"I like Meewasasin because of the people in it (and) I like the staff.  When I pass my program I am (going to) be a construction worker … I am (going to) do my best to make something good out of it in the future for my family and I am (going to) take my skills to better places and bigger things.  Meewasasin helped me kind (of) find myself for who I am as a native.  It helped me think of a better career for me, now I know what I wan(t) to do in the future …"

"I thought the Meewasasin (program) was great because I met new people and how to write TOWES (Testing of Workplace Essential Skills).  It was helpful because I got to learn new things.  I liked how we learned to use Microsoft … on the computer.  I would recommend (this program) to others."

"My experience for this place is good.  Learning new things and cultural stuff was good.  I really liked (experiencing) the Tipi Raising and my first Pipe ceremony.  Learning about other people and where they came from was good.  I also liked the (Feast) food."

"I learned some computer skills that I didn't know.  I like that we volunteer and I had a good time here.  I met new people and recommend this program …"

"My experience with Meewasasin wasn't what I expected.  I absolutely love this program.  It helped me out with a lot of new things like how to find a job and know what to expect when looking for work.  What I liked about this program is I met awesome instructors and a few good people.  What I liked most about this was an elder coming to teach us about our culture.  I enjoyed everything Meewasasin has done for me … I would definitely recommend this program to my family and friends."

"My experience at Meewasasin was great.  It opened up my eyes to explore new things.  Especially things I thought I'd never do.  It helped me to realize I still need more work on myself.  It was really helpful to understand everything better.  I learned that every lesson has a lot to do with yourself and others around you.  I like that the Meewasasin program helped me overcome some of my fears.  It was a great experience working in the program with others and getting to know each other.  I would totally recommend others to join it helped me realize that change is always good especially when you know you really needed the change the support is awesome…"

"I found Meewasasin a good program because of what they …teach us.  The staff are really genuine and nice, I am glad to have attended the program.  With this class I've learned more about budgeting, bills, banking, very good communication skills, and carefully reading to find the most important information.  If I could come back I would but now it's my turn to take these skills to the real world."

"The employment training program at Meewasasin is such a good program it helped me figure out what I really wanted to do as a career and helped me to be independent which was a barrier for me.  There's many other things this program did for me … which I'm happy about.  The staff is super supporting and help you in any way you need help."

"Well to me I think it could have been longer.  I liked what they showed me here.  It's helped me make a better resume and to write a cover letter."

"This program is awesome.  I wish this course would have been longer.  I really enjoy my time here, it allows me to get to know myself better.  I like working and coming.  I think Tim, Jessica, and Kari are a group of wonderful people.  This was one of my best classes, thanks guys!!!"

"Could be longer…. lots of helpful advice and positive atmosphere."

"Great program.  Learned a lot of useful skills both personal and interpersonal.  Met a lot of great people and hope to continue the friendships for years to come."

"Meewasasin was an amazing experience.  I've definitely learned a lot and would recommend the program to some people I know.  I benefited a lot from this program.  I've learned more about myself as a person, my parenting skills, spirituality and my culture.  I'm very happy I had this experience and I will be using all the knowledge I've learned on a daily basis."

"My experience here was very educational.  I learned a lot here.  The staff are kind and good people.  I've learned so much from them already I wish it didn't have to end so quickly."

I've had a very excellent experience with this program the past four weeks.  I love the very kind people I met at this program, I enjoy getting all my tickets and the support they help you with.  I personally recommend anybody to join this program.  I love the support that Jessica and Kari help us with.  Thank you all very much."

"I enjoyed the facilitator's company and enhancing my workplace/life skills.  I enjoyed the learning environment and people.  Keep helping others."

"My experience with Meewasasin has been great.  Since the day I met Kari and Reona I felt welcomed.  The amount of support I have received from Meewasasin has been amazing.  The day I started here was the day my life changed for the better.  The three of you ladies are awesome.  The life skills I've learnt over the last 3 weeks I'll take and use them to the best of my abilities.  Thank you."

"I love this Employment Skills program especially having Kari, Jessica, Reona as our skills trainers.  They've helped me bring out my real inner self.  Helped me go into (other programs) and get into (the) winter semester at SIIT … Taught me to be more assertive at school.  You are awesome energy ♥"

"Meewasasin – Great learning experience, amazing, excellent, fun, cooperative."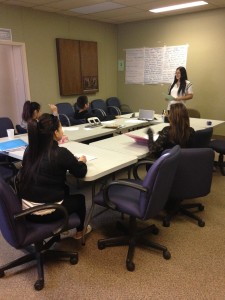 Come see for yourself how this program can get you started on your road to employment or further training/education!  
---
Who is eligible?
We accept unemployed youth ages 16-29 who are having trouble finding or maintaining employment but are committed to finding employment or furthering their training and development. You must have your SIN number in order to qualify.
What will I gain from attending?
Our program was designed from the feedback of other training programs and employers.  The skills gained in our program are the top identified skills needed to either be hired or  accepted into further training and development.
We also have an Elder come in weekly for presentations as well as hosting regular Sweat Lodges to help clients experience, learn and/or reconnect with traditional First Nations culture.
Why Meewasasin?
We are the first step for you to gain the key essential skills to be successful in applying for jobs or further programming. We are seen as that "first step" program for a client to discover and strengthen their skills needed to be successful in employment or further training/education.
How does it work?
The program runs Monday to Friday from 9 am – 3:30 pm (with a half of an hour off for lunch).
What if I don't need all of the skills covered?
If you only need help with things like a resume or interview skills you can attend the one week workshop we offer on rotation.  You can also come in and speak to staff to assess your needs and do some one on one support if the program is not right for you.  No matter what your needs are, we can help!
What do I need to do?
Come by the office at 1650 Angus Street.  You can also contact staff at 306-791-9530 for more information.  You can click here to go to our website for further information.  Below is the poster with program dates.
---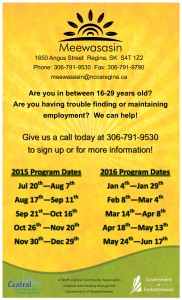 ---