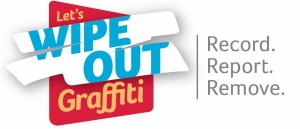 Graffiti impacts the whole community and requires action from everyone.
Record:
Take a photo of the graffiti vandalism on your property as soon as you see it. The photo is critical to successful investigations by the Regina Police Service.
Report:
Report all incidents of graffiti damage to your property by calling the Regina Police Service at 777-6500. You will be given instructions on how to submit information and the photo. You can also go online at www.reginapolice.ca, click on Online Reporting/Mischief/ Mischief-Graffiti.
If you see a graffiti crime in progress, you are encouraged to call 911.
Remove:
Remove graffiti from your property as quickly as possible. A quick response has been shown to prevent it from reoccurring.
For more information on
the City of Regina Graffiti Management Program
visit Regina.ca or call 777-7000.