The Community 'R' Healthy Food Store has operated in Regina North Central since June 2005.
'R' Healthy Food Store hours

Mondays 11:00AM to 1:00PM
The 'R' Healthy store brings fresh, nutritious and affordable food to our community in the form of fresh produce, frozen vegetables, meat, eggs, dairy products, pasta, canned goods, bread and other baked goods – all at low prices!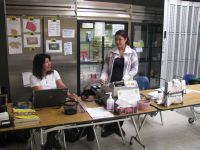 The store is seen by many as a step in the right direction toward filling the need of a full-scale grocery store in Regina North Central. The mobile store is a partnership initiation of Regina Education and Action on Child Hunger (REACH), the City of Regina, the United Way, and North Central Community Association.
In addition to low prices, this store also accepts emergency food vouchers from social services and milk vouchers from the Regina Qu'Appelle Health Region. Payment for groceries by cash only.
The 'R' Healthy Food Store is part of the Regina Food Security Project.  It uses the 'food security' approach by promoting access to a high quality stable food supply in a manner that does not stigmatize the consumer, and does not infringe on the consumer's independence. Other Regina Food Security Initiatives provide seniors, shut-ins, healthcare patients, SAP recipients, young families, and others, with easy access to safe, nutritious, affordable food. Those initiatives operate in collaboration with the Regina Qu'Appelle Health Region and are administered by REACH.
If you would like more information concerning the 'R' Healthy Food Store please call 306-347-3224, and don't forget to stop by the store in the Commons, main floor of  mâmawêyatitân centre.
---
REACH encourages groups serving North Central families on government assistance to make the program known to their clients/contacts, and assist in the application process (if and where required).
---
If you have any questions, or would like additional information, please contact us.
REACH
Box 4482, Regina, SK S4P 3W7
Phone: 347-3224
Fax: 347-0943
www.reachinregina.ca