The Community 'R' Healthy Food Store has operated in Regina North Central since June 2005.
'R' Healthy Food Store hours

Mondays 11:00AM to 1:00PM
The 'R' Healthy store brings fresh, nutritious and affordable food to our community in the form of fresh produce, frozen vegetables, meat, eggs, dairy products, pasta, canned goods, bread and other baked goods – all at low prices!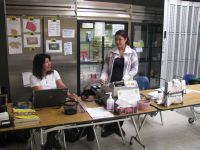 The store is seen by many as a step in the right direction toward filling the need of a full-scale grocery store in Regina North Central. The mobile store is a partnership initiation of Regina Education and Action on Child Hunger (REACH), the City of Regina, the United Way, and North Central Community Association.
In addition to low prices, this store also accepts emergency food vouchers from social services and milk vouchers from the Regina Qu'Appelle Health Region. They also have a discount card for families on social assistance, which includes an additional 15% off milk. People can pay for their groceries through debit as well as cash.
The 'R' Healthy Food Store is part of the Regina Food Security Project.  It uses the 'food security' approach by promoting access to a high quality stable food supply in a manner that does not stigmatize the consumer, and does not infringe on the consumer's independence. Other Regina Food Security Initiatives provide seniors, shut-ins, healthcare patients, SAP recipients, young families, and others, with easy access to safe, nutritious, affordable food. Those initiatives operate in collaboration with the Regina Qu'Appelle Health Region and are administered by REACH.
If you would like more information concerning the 'R' Healthy Food Store please call 306-347-3224, and don't forget to stop by the store in the Commons, main floor of  mâmawêyatitân centre.
---
REACH encourages groups serving North Central families on government assistance to make the program known to their clients/contacts, and assist in the application process (if and where required).
REACH Milk Discount Card
Purpose
The REACH Milk Discount Card is a pilot program. It is a subsidy intended to help families receiving government assistance, by providing more milk to their young children. It is also intended to help families on the road to independence by mitigating their use of charitable, emergency food providers.
Rationale
Families on government assistance sometimes make less-than-positive food choices due to the lack of affordability and/or accessibility of certain nutrient-rich foods such as milk, fruit and vegetables, whole grains, etc. A milk subsidy in North Central Regina is one way to make milk more affordable and accessible for families with young children who would benefit from the nutrient-rich food source.
REACH does not currently have the resources to provide a milk subsidy to every single low-income Regina family with young children. Therefore, we have targeted a specific demographic population who would benefit the most from the subsidy, and who would have a better likelihood of using the sole food outlet where the discount card will be honoured; the 'R' Healthy Food Store located in North Central Regina. The targeted demographic population will be families who: (1) are receiving government assistance, (2) have children in their care six years of age or younger, (3) are living in North Central Regina. If the pilot is successful in its purpose, it may expand to a wider demographic area.
REACH Milk Discount Card holders receive pricing below REACH's wholesale cost. Because this program is a funded subsidy provided by REACH, a few rules of use apply to ensure that we are spending our limited agency resources effectively.  We strive to assist families with young children on the road to independence.
Process
Applications will be made available to human service agencies, schools, and government departments who request them. Applications may also be found on the REACH website (in the near future) at www.reachinregina.ca, and at the 'R' Healthy Food Store.
An application will be filled out and signed by the person who is applying to be the authorized card holder. Within the application, the applicant will declare that they are receiving payments from Saskatchewan Assistance Program (SAP), Provincial Training Allowance (PTA), or Training Education Allowance (TEA), that they have children six years of age or younger in their care, and that they are a resident of North Central Regina. "Rules of use" will apply, and are found within the application and on the issued card. They will also agree that REACH may contact Social Services personnel to confirm their declaration.
The application will be received by REACH and the declaration information will be verified with Social Services.
Once the declaration is verified, REACH will issue a discount card to the applicant that can be picked up at the 'R' Healthy Food Store.
The Authorized Card Holder will receive a 15% discount off the already low-priced milk purchased at the 'R' Healthy Food Store. When making a purchase, they will be required to show their REACH Milk Discount Card and a drivers license (or some other form of identification).
---
If you have any questions, or would like additional information, please contact us.
REACH
Box 4482, Regina, SK S4P 3W7
Phone: 347-3224
Fax: 347-0943
www.reachinregina.ca