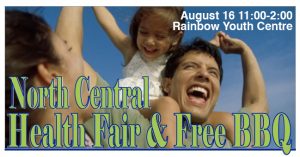 CDA POSTER NCHF poster 2017
The 11th annual North Central Health Fair, presented by SaskMilk,  will be on Wednesday August 16, 2017 at the Rainbow Youth Centre. North Central residents will have the opportunity to attend an interactive free heath fair and BBQ in their community where they can meet health professionals and presenters from a number of non-profits to gain information and tips to help improve their health and wellness.
The North Central Health Fair is designed to increase awareness of chronic disease risks and to introduce participants to health resources in their community. The Health Fair provides residents with information on their personal risk for developing diabetes and the opportunity to receive one-on-one diabetes education and counselling from a variety of healthcare professionals. The event follows an upstream methodology, focusing on prevention and early detection, rather than treating the illness after the fact. Residents have access to healthcare professionals and resources in a nearby, familiar setting where neighbouCDA POSTER NCHF poster 2017rhood members are involved in planning the project for their community which promotes pride, health and wellness.
Community partners, Aboriginal Health Home Care, Diabetes Canada, North Central Community Association, Four Directions Health, Rainbow Youth Centre, Regina Food Bank, Regina Police Service and SEARCH have planned a highly interactive event that uses a passport approach to encourage participants to visit the various activities and learning stations. At each station the passport is stamped and then passport is exchanged for a healthy barbecue meal including lean burgers, fruit, vegetables and water. Additionally, dancers and drummers perform traditional dancing, as an example of physical activity that should be incorporated into a healthy lifestyle. This year the North Central Health Fair is registered as a Participaction 150 playlist event and residents can become involved in physical activities for the whole family, have a healthy BBQ lunch, learn more about healthy living and enjoy the entertainment. The event runs from 11am – 2 pm on August 16, 2017.
Joining as the presenting sponsor in 2017, SaskMilk proudly represents Saskatchewan's 160 dairy family farms! SaskMilk's dairy farmers are committed to producing safe, antibiotic-free, high-quality milk without the use of growth hormones, and to giving back to our communities throughout Saskatchewan.