What is the Good Food Box?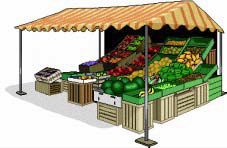 The Good Food Box is a fresh and nutritious box of fruits and vegetables delivered right to your neighbourhood every two weeks on Wednesdays. It's just like having a fresh fruit and vegetable stand right on your corner.
How does it work?
Each neighbourhood drop-off site has a volunteer coordinator who collects an advanced payment for the box.
We select only top-quality produce to be included in the box.  This includes a variety of fresh, nutritious food that ensures the best dollar value for our customers.
The produce is delivered fresh to our warehouse and volunteers help us to pack it the same morning that it is received.
Our drivers then immediately deliver the boxes to a network of volunteer-run community dropoff depots.
The volunteer coordinator receives the box, having it ready for you to pick it up.  They also hold the recyclable boxes for our later collection.
Two weeks later, we do it all again!
What is in the box?
The selection of fruits and vegetables changes with every delivery.  It is based upon a number of important considerations, including what produce is in season.

Basic items such as potatoes, carrots, onions, apples, citrus fruits, and bananas are usually included in every box. A wide variety of other items such as cherries, melons, strawberries, peaches, and corn-on-the-cob are included when in season. We choose only the best quality produce and will not include an item if it is not fresh, or if it is not a good food value for our customers.
Can I select what is in my box?
No, everyone gets the same carefully chosen fruits and vegetables. Although we do periodic surveys to check our customers preferences, there may be some fruits and vegetables that you, or your family, don't care for. If there is an item in the box that isn't a personal favourite, you may be able to make a trade with someone else at your neighbourhood drop-off site.
How much money can I save?
We are charging a non-profit price, which will save you an average of 1/3 to 1/2 of the cost of purchasing similar produce at a regular retail food outlet or grocery store.
Can anyone participate?
Absolutely. The Good Food Box is available to any Regina resident who is interested in increasing their consumption of fresh and nutritious fruits and vegetables through a convenient distribution system, at a very affordable cost.
Do I have to commit?
No. Try a box and see if it is right for your family. Order another box when you are ready, by contacting your Good Food Box depot coordinator.
Why fruits and vegetables?
Fruits and vegetables are one of the most important components of our diet. They contain essential vitamins, minerals and over 100,000 other protective compounds including: vitamins A, C and E, iron, calcium, magnesium, potassium, and fibre. These nutrients are essential to maintaining good health.
In today's fast-paced world of conflicting family schedules, too much fast food and processed foods are being consumed, while fruits and vegetables are being forgotten. Canada's Food Guide recommends 7-8 servings of fruits and vegetables every day for 19-50 year old females. This goes to show the importance of the Good Food Box.
They taste good and are the perfect fast food. Eaten raw or cooked, they are also one of the most versatile foods with 100's of recipes and preparation styles.