Good Neighbour Services is a social enterprise of the North Central Community Association providing employment opportunities for the youth of our community. The program provides products and services within the City of Regina while providing their workers with valuable job skills and work experience.
Good Neighbour Services (GNS) Project Manager Marty Rothermel has spent over 25 years in the construction industry as a carpenter, landscape maintenance, and in construction. He's enjoyed creative work as a scenic carpenter in film and television.
While leading and coaching youth over the decade with Ehrlo Community Services Outdoor Hockey League, Marty has gotten to know families in North Central. He has established a good rapport which will serve him well if he finds himself hiring these young adults for local projects.
Good Neighbour Services is retaining 1650 Angus Street as its home base. NCCA's previous programs (Meewasasin and Good Neighbour Fencing) had their class and workshop space there. 
The GNS crew will be a core of constant employees, and a roster of contract employees who, for whatever reason, can't commit to a 40-hour work week. Marty explains, "We can fill in the gaps with paid employment. If any of those hires decide GNS is a place they want to be, if they're a fit for us, then we'll hustle for more contracts. If they'd rather look elsewhere while they fulfil casual placements for us, that's good too. We want to build a skills bank to get neighbourhood individuals employed."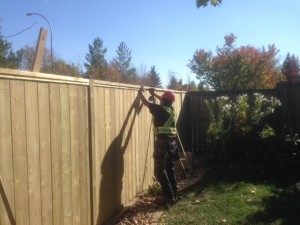 "For casual yard maintenance or as part of a shovelling crew using GNS's tools, this program is meant to help people gain what they need to have as an employee – whether it's with us or with someone else. If it's a matter of getting them set up with a social insurance number or a bank account, we'll help them with that. Ultimately they are people who will be on a payroll. We are all about getting people engaged or re-engaged and productive."
The hires will do the work as teams. Building relationships will happen as a result and those attitudes transfer, no matter where you're going. There will be training on the tools needed and some safety training through SIIT to everyone who enrolls in GNS. All in the North Central neighbourhood are welcome to participate.
"We have 2 single-stage snowthrowers for this season. We'll bring out the leaf blowers, brooms, and shovels. We'll swarm the job site and move on!" Marty laughs.
Contact Us
Good Neighbour Services
1650 Angus Street (rear entrance)
Regina SK S4T 1Z2
Phone: (306) 519-0730
Email: gns@nccaregina.ca