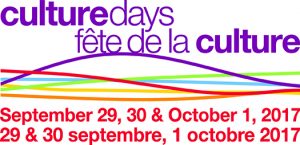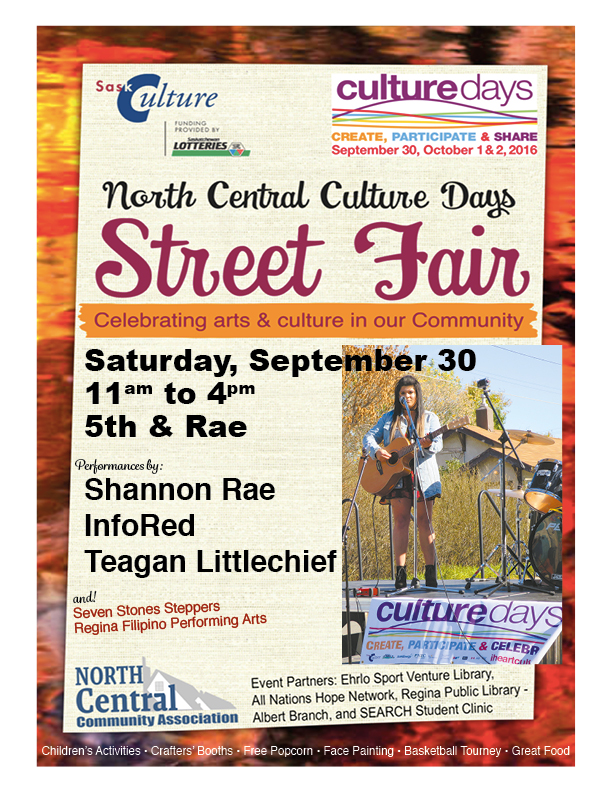 North Central Culture Days Street Fair
A celebration of art and culture in the North Central community!
When: Saturday, September 30, 2017 from 11:00 am to 4:00 pm
Where: 5th Avenue and Rae St
Creativity through arts, music, workshops, performance and more. This is a chance for people from all over Regina to come together in North Central and experience a truly unique FREE and ALL AGES event.
Activities and face painting for children!
Watch this page for the list of exciting entertainment in 2017!
Please download, complete and return the vendor application forms below to register your booth at this event.
2017 Street Fair Booth Application
____________________________________________________________________________
Musical Performers headlining in 2017:
Teagan Littlechief: Teagan Littlechief is from the White Bear First Nation. She recently got the opportunity to be showcased during Canadian Country Music Week in London, Ontario. Her single "I'll Bring the Party" was #1 on National Aboriginal Music Countdown. And her recent release of "Hell Bent and Heaven Bound" is in the top 20. Teagan is currently working on raising money to record her next single in Calgary. Check out Teagan's website to hear some of her music!
Shannon Rae: Shannon Rae is a singer songwriter who resides in Regina, Saskatchewan. She began singing at the age of 4, performing for live audiences at the age of 9 and performed competitively at age 14. Recently, she had the pleasure of visiting Nashville, Tennessee, where she performed at the World Famous Tootsie's Orchid Lounge, Douglas Corner Café. Check out Shannon's website to learn more about the performer.
For media, sponsorship and all other inquiries please email exec.director@nccaregina.ca.
Be sure to visit: www.culturedays.ca to learn more about this exciting national movement….
To download event poster please click the link:
North Central Culture Days Street Fair Poster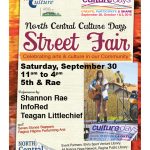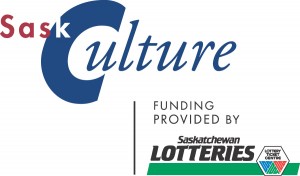 ---
Check out some photos from the 2015 Culture Days Street Fair Celebration