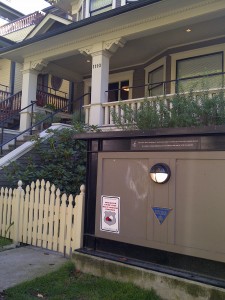 The Crime Free Multi-Housing Program (CFMH) is a crime prevention program designed to reduce crime, drugs, and gangs on multi-dwelling properties. This program was successfully developed by the Mesa, Arizona, USA Police Department in 1992 and implemented in Canada in New Westminster, B.C. in 1994. Since then, the program has been implemented in a few Canadian and many USA cities, and the concept presented to a dozen other countries.
CFMH is based on education and community cooperation. The program consists of three phases that are intended to both address criminal activity and enhance the feeling of safety and sense of community in rental properties. The completion of the phases emphasize how a community of property owners, managers, tenants, law enforcement and support services can work together to dissuade criminal activity on rental properties.
Phase 1 of the program is a landlord training workshop which focuses intensely on the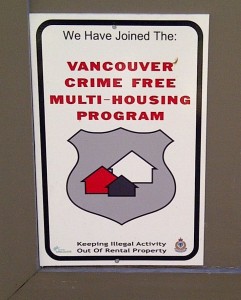 benefits of being a "present" as opposed to "absent" landlord. Property owners and managers learn active management principles and techniques that assist in keeping illegal activity off their property – i.e.: understanding landlord/tenant legal framework; careful tenant selection; treating tenants with respect. The second CFMH phase is a property safety assessment using principles of Crime Prevention Through Environmental Design (CPTED) – i.e.: good lighting; proper locks; well maintained property. The third and final phase involves a Safety Social gathering for the tenants. The aim of the social is to increase crime prevention awareness, promote general safety principles, build a sense of community and ensure tenant buy in. Once a property has completed all three phases, a CFMH 2 x 3 metal sign is attached to the building on the property. Each property must be certified annually.
This report focuses on the Crime Free Multi-Housing (CFMH) program in Canada and the United States. Research was obtained from a variety of sources including the Internet; published and unpublished statistical reports; voice and email personal communications; personal attendance to a landlord training workshop and academic journal articles
To read more about the program download "Crime Free Multi Housing"