Your community association hosts one large community clean up per year in addition to the single alley clean ups that the Renew Project hosts throughout the summer months.
For the past few years, NCCA has partnered with Bennett Dunlop Ford to hold the Annual Community Clean Up.
Our gathering point is announced annually. We spread out from there with trucks and route maps. We are always in need of volunteers to help with this event. Snacks and coffee are offered in the morning, as well as a barbeque lunch for all volunteers. Along with volunteers on the grounds, we are in need of trucks and drivers willing to come out.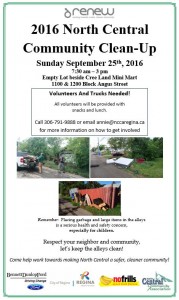 Volunteers help make this neighbourhood a better place to live and play. Help us get rid of those negative stereotypes and pitch in for a day! Come meet some new friends and meet others who are helping make North Central a great place to be!
Please contact the office at 306-791-9888 if you have any questions, or to confirm your participation. We would like to thank you in advance for helping work towards a safer, cleaner community.
Respect your neighbour and community, let's keep the alleys clean!
Placing garbage and large items in the alleys is a serious health and safety concern, especially for children.