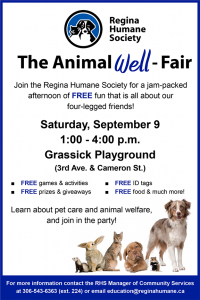 (Information courtesy of RHS)
Animal Well-Fair helps the Regina Humane Society celebrate the end of the summer! Animal Well-Fair marks the end of a busy and educational summer for the RHS and the hundreds of children who learn about animal welfare and responsible pet ownership through our Pet S.T.O.P. (Pet Supply, Training, and Outreach Program) visits. This family event is held every year in Grassick Playground (at the corner of Cameron St. and 3rd Ave.). The 2017 event is on Saturday, September 9.

The Animal Well-Fair is a great way for families to learn about the proper care for pets in a way that is entertaining, engaging, and educational. Event attendees can try their hand at the Scoop the Poop Relay or Kitty Litter Dig to test just how quickly they can clean up after their pet. They can make their favorite furry friend a toy, test their pet care knowledge at the RHS trivia station, and stop by the BBQ for a delicious hotdog. Families facing financial difficulty also have the opportunity to access free pet food, collars, leashes, and other pet care items throughout the afternoon. Event attendees can also obtain applications for our Subsidized Spay/Neuter Program and information about the other programs and services offered by the RHS.
For more information about Pet S.T.O.P., contact our Education Coordinator at: (306) 543-6363 ext. 224 or email education@reginahumane.ca
---