Angels 4 Warmth Inc. is a registered non-profit group in Regina who make afghans, quilts, hats, mitts, sweaters, lap robes, chemo caps, preemie caps, shoulder shrugs, slippers, and a variety of other knit and crocheted items.  They distribute them to the cold and needy throughout the city. Founded by Shannon Clark a resident from North Central in 1999, the group now has more than 50 members who regularly contribute items.  Angels has distributed thousands of items to charitable organizations throughout the city.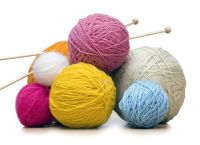 Most of the members of Angels 4 Warmth are seniors who enjoy knitting and crocheting because it gives them something to do, and because it's a way to contribute to their community.  The monthly meetings are also an enjoyable social event.  "It's rewarding," says Arlene Kenville. "It makes you feel good—and it makes the people who receive the warm clothing feel good."
The gifts of warmth are greatly appreciated by those who receive them.  Recipients include cancer patients at the Allen Blair Cancer Centre, seniors at the Sunset Extendicare Home, premature babies at the Regina General Hospital, Canadian Red Cross, Carmichael Outreach Inc., Four Directions Community, Hope's Home, North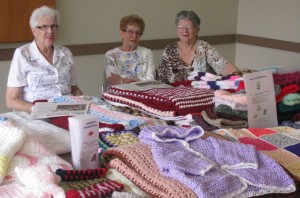 Central Community, Pioneer Village, Salvation Army, Souls Harbour Rescue Mission, Wascana Rehabilitation, William Booth Special Care, Women's Shelters, seniors, and care homes.
Member Thelma Childs emphasizes that the group is always in need of volunteers and donations. They accept donations of yarn, material for quilts, used clothing, and collect drink tabs and stamps on behalf of the Pasqua Hospital.  Donations can be left at Lorne Drugs at 2255 14th Avenue.  For more information, contact:
Thelma Childs at 545-3270
Pearl Harvey 352-2570
Arlene Kenville 543-4475
Yarn Drop off Locations:
Lorne Drugs – 2255 14th Avenue Regina
Carmichael Outreach Inc. 1925 Osler St
Life Line Ministries Inc, 7 Andre Avenue, Regina
Al Ritchie Community Outreach, 2250 Lindsay St
Regina Seniors Citizens Centre, 2134 Winnipeg St
Meetings:
The first Wednesday of each month at 1:30 p.m. Regina Village, 4550 10th Avenue (except July and August) Please call us If you would like to knit, crochet, or donate yarn.